FREE File Converter: PDF, DOC, PPT, XLS & more
Converter Suite is not available on your current browser.
Useful features
• Convert PDF to Text, PDF to JPG, PDF to DOC & other file formats
• Conveniently save and share files online
• Merge PDF and Word files within seconds
• No additional fees. Sign up for FREE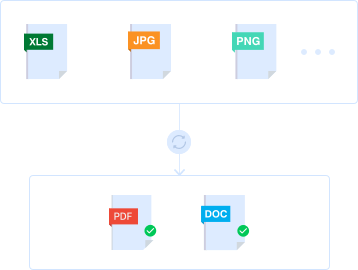 Multiple file type converter
Converting files to almost any format just got easier! With this easy-to-use extension, you can convert multiple files between formats including PDF, DOC, JPEG, MP3, TXT, HTML, XLS, MP4 & more. You can also merge PDF and Word files easily.
Free PDF Converter
From presentations and documents to images and more, experience hassle-free PDF file conversion. With this extension, you can convert different file formats to PDF using a free tool and quick links from your new tab.
Experience fast & safe file conversions online: Add this extension without paying any registration fees.