FREE File Converter

PDF, DOC, PPT, XLS & more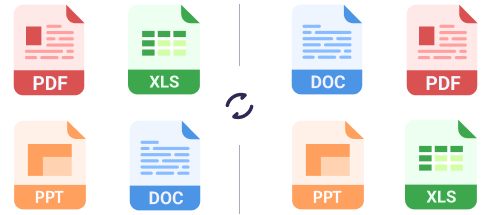 Useful features
• Convert PDF to Text, PDF to JPG,PDF to DOC & other file formats
• Conveniently save and share files online
• Merge PDF and Word files within seconds
• No additional fees. Sign up for FREE
Convert your files to multiple formats
PDF conversion is just one of many file conversion features available on our tool. Our software also converts PDF files into many other formats, such as DOC, XLS, JPEG, PPT and more. You can enjoy these conversions by downloading the Converter Suite extension for free on your Firefox browser.
Multiple file type converter
Converting files to almost any format just got easier! With this easy-to-use extension, you can convert multiple files between formats including PDF, DOC, JPEG, MP3, TXT, HTML, XLS, MP4 & more. You can also merge PDF and Word files easily.
From presentations and documents to images and more, experience hassle-free PDF file conversion. With this extension, you can convert different file formats to PDF using a free tool and quick links from your new tab.
Convert files to and from PDF Online - it's free!
1
Drag & drop or select the file you'd like to convert
2
Select the format you want to convert to PDF
3
Our free online tool will instantly convert the file to the desired format. It will be available to download immediately.